Doggie Fancy Dress Contest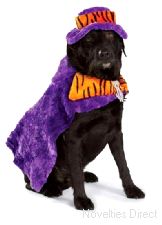 Category:
Blogs
Posted:
07-09-2011 12:25
Views:
19057
Synopsis:
Cats and Dogs in Fancy Dress has been our interest in the office today after reading about Battersea Cats and Dogs Home holding their annual reunion where a Fancy Dress Contest was part of the procedings. We would love it if you would share your funny Dogs and Cats stories with us and even some funny photos of your pets in Fancy Dress Costumes.
Battersea Cats and Dogs Home who do a fantastic job of rehoming cats and dogs held their annual reunion last weekend. This sounded like a fun day with a dog tea party, a dog show, doggie games and the popular Fancy Dress contest judged by Brix Smith-Smart. It must have been really cool seeing lots of dogs dressed up in costumes such as a Hippie, a Pirate, Princess Lea or a Doctor.
Please share your doggie stories and funny pics with us.
Have you ever been to one of these reunions? Has your cat or dog ever worn a Fancy Dress Costume or entered a fancy dress contest?
Comments on Doggie Fancy Dress Contest