Thanksgiving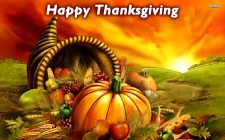 Category:
Blogs
Posted:
12-11-2013 12:00
Views:
64300
Synopsis:
Thanksgiving takes place on 28th November and is a National Holiday in America. Families celebrate with a special meal often using Disposable Tableware. Loads of Stars & Stripes Decorations as well as American Flags and Bunting are put up. . This annual tradition has been taking place since 1863 and is an important day in the American calendar. We would love to know if you have celebrated Thanksgiving in America.
Thanksgiving is an annual tradition celebrated in America. Thanksgiving was started by President Lincoln in 1863 to give thanks to the blessing of the harvest. It takes place on the fourth Thursday of November which this year falls on 28th November. It is customary for families and friends to get together. Homes are decorated with Flags , Bunting and Stringers and a typical Turkey meal with all the trimmings is served. Thanksgiving is a National Holiday and most businesses and schools are closed and it usually becomes a four day weekend where companies also close on the following day. This allows families to go on trips together. There are also parades held in many cities giving people the chance to wear Stars & Stripes Tiaras and Hats . It is such an exciting time to be in America this time of year.
Have you celebrated Thanksgiving in America? Please let us know your experiences.
Comments on Thanksgiving