Stag Night Party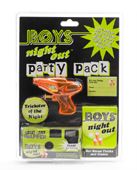 Category:
Blogs
Posted:
05-08-2015 17:09
Views:
2438
Synopsis:
A Stag Night is the celebration of a boys night out out before the groom to be gets married. There are many ways to enjoy a Stag Party ranging from a night out to weekends away and we have been looking at different ideas to add to the atmosphere of these parties. Stag Night Party Products such as Stag Costumes, Wigs and Hats are always good fun. Stag Accesories such such as shot glasses are always a popular choice and help get the festivities going. We would love to hear about your stag night experiences.
With the marriage season upon us comes the time for Stag Night Parties. We have loads of ideas to add fun to any Stag Night and we are really busy at the moment with sending out Stag Night orders for Stag party novelties. The typical Stag Night is usually organised by the Best Man or close friends and is a celebration of a boy's night out before marriage and often referred to as "the last night of freedom". There are many options of how to enjoy these festivities which include going to a restaurant or clubs and even weekends away and trips abroad. Another popular way to enjoy being with the boys are action days such as paintballing, clay pigeon shooting and sporting days. When planning the perfect Stag Night don't forget the Stag Party Supplies that add that extra bit of fun such as wigs, hats and many accessories.
We have a large range of Stag Night stuff for you to choose from. Getting dressed up plays a big part in the partying. We have some cool costumes which include a Banana Costume, an Adult Baby Romper Suit and a Male Chest Vest. If it's not full costume that you after then accessories such as Beer Glasses and Personalised Glasses are ideal. Police Hats and Stag Horns are also great additions to a costume or look amusing on their own as do Mullet and Comb Over Wigs. As there usually tends to be a lot of alcohol flowing at a Stag Party you should never be without a shot glass. With our Shot Glass and Test Tube Shot Glass both on a beaded necklace you will always be ready for the next drink.
This is an event that you will want to be organised for and our choice of delivery options can help with that. Even if you order your party novelties at the last minute we have a next day delivery service.
Are you currently arranging a Stag Night or going to one. Please let us know what your plans are and what great Stag Party ideas you have.
Comments on Stag Night Party