Hen Night Party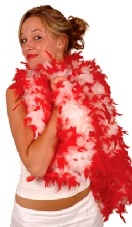 Category:
Blogs
Posted:
29-07-2015 17:04
Views:
1905
Synopsis:
A Hen Night is the perfect time for the girls to get together to celebrate the Bride To Be. This can be done in various ways inluding nights out, weekends away, trips abroad or pamper days. Getting the Hen and guests dressed up in Hen Aceesories always adds an element of fun to the celebrations. This can Include Tiaras and Headboppers, Hen Nights, Hen Wigs, Hen Packs, Boas and L Plates which are always a popular favourite. We have been looking at Hen Night Party ideas to help you get the party going and we would love to hear from you if you are planning a Hen Night.
With the summer months being a popular time for weddings we are very busy selling Hen Night party stuff. There are so many options when arranging a hen night which tends to be organised by the bride to be's close friends. A Hen Night is the chance for all the girls to get together for a lot fun. Favourite things to do are to go out for dinners, to go to clubs as well as weekends away and trips abroad. Pamper and Spa days are also now favoured as are activities such as cocktail making. This is the time to let your hair down and go all out to get into the full swing of the party. We have loads of ideas and hen night products which include dressing up accessories to add to the fun and let everyone know who the hen is.
Getting dressed up is the ultimate way to get the party started and among many items we have a large selection of Headboppers & Tiaras, Hen Accessories and Hen Hats to choose from as well as Hen Party Packs and Boas. The traditional way to dress up the Hen is in L Plates and our range also includes an L Plate with a veil, Flashing L Plates and L Plate Wings. Sashes are also distinctive to be seen on a Hen Night and because we personalise them there can be one for everyone. They range from Bride To Be, Mother and Mother-in Law of the Bride to Bridesmaids and Brides Friends. As well as Sashes Personalised Glasses have also become a big hit, choose the colour of your glasses and what you want them to say, examples are Bride, Hen, Bridesmaid as well as names of those attending. Our variety of Headboppers includes Hen Party and Flashing Bunny Ears which not only add to the enjoyment but make everyone feel involved if they have something easy to put on. Hats are always a must at a Hen Night and Pink and Silver Glitter Hats are perfect as are Boas which look stylish, our choice of colours include Hot Pink and Red.
With so much to choose from getting the festivities going will be easy and with a delivery option to suit, you will everything you need in time for a fantastic Hen Party and a night to remember.
Are you planning a Hen Night? We would also love to hear about any Hen Night experiences.
Comments on Hen Night Party