Christmas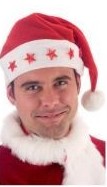 Category:
Blogs
Posted:
09-10-2014 15:49
Views:
3805
Synopsis:
Excitement is building in the office this week as the phone calls for Christmas ordering and enquiries are mounting. From corporate to restaurants and private events people are starting to get organised for their Christmas Parties. Many office parties start taking place from the beginning of December so getting all your Christmas Stuff ready is important. We have lots of Christmas Party Ideas to help you which include Red Santa Hats, Christmas Crackers and Christmas Decorations. Please let us know how all your Christmas plans are going.
The time of year is now upon us where thoughts are turning to Christmas. It always seems a long way off but before we know it we will be getting ready for the office Christmas Party. We are already taking orders and dealing with enquiries for all Christmas party supplies. We have a fantastic selection of Christmas party products for you to choose from and loads of Christmas party ideas. Santa Hats are always a best seller alongside Christmas Crackers. We have a range of Red Santa Hats to suit your budget and needs these include regular and plush as well as special offers. These Santa Hats are a particular favourite in the workplace with many restaurants, bars and clubs purchasing these and are always fun at any Christmas Party. Christmas Crackers are of course a must at any Christmas do. No party would be the same without the tradition of a paper hat, a joke and a present. Our Crackers are available in a choice of designs and colours such as Red and Green, Snowflake and Gold and Silver. Adorn your home or workplace this year and make an impression with cool Christmas Decorations for a classic Christmas feel. A Merry Christmas Sign or Banner is a great place to start when deciding which decorations to go for as well as Tinsel, Twirly Hanging and Santa Face Danglers. In addition to this Santa's Workshop and a Santa Face go really well together. A Christmas Fancy Dress party is always a good idea and Santa Costumes are a real talking point.We have a Santa Suit for all types of Christmas events, for a school play or just for dressing up a Childrens Santa Suit is perfect. Whether you are looking for a Budget or a Luxury Velour Santa Suit you can't go wrong and these are ideal to disguise yourself as Santa at any party, we even have a Miss Santa Costume for the ladies.
There is already a Christmas buzz in our office and orders are being sent out. With our choice of delivery options including a next day delivery service you can be really organised with getting your Christmas stuff together.
Are you getting ready for your Christmas Parties? We would love to hear how your plans are going.
Comments on Christmas